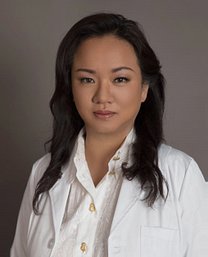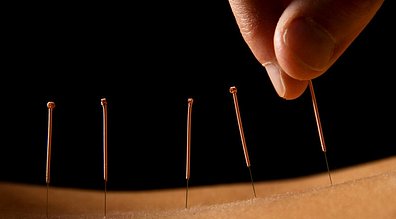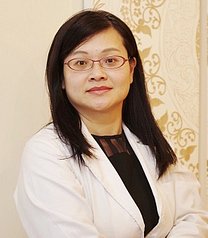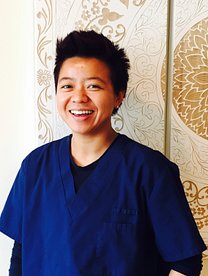 Acupuncture and acupressure was developed in Asia over 2000 years ago, using the power and sensitivity of the hand or needle, both treatments can be used to relieve pain, fortify the body immune system, and detoxify the body for greater health. When these acupuncture points are stimulated, they release muscular tension, promote circulation of blood, and enhance the body's life force energy to aid healing, and develop spirituality and vibrant health.
Jaelyn Tsao, R.A.C.
Jaelyn Tsao, a licensed acupuncturist who is experienced not only in acupunture practice but also has extensive knowledge and skills in nerve setting manipulation. Commonly known symptoms such as soreness and numbness of muscles or joint areas can be treated by hand manipulation. Through acupuncture treatment, the pain and soreness can be alleviated immediately. The combination of both techniques cured many patients who suffered chronic pains.
Treatment Fees
Initial Acupuncture Treatment
$ 80 (30 mins)
$100 (60 mins)

Subsequent Treatment
$ 80 (30 mins)
$100 (60 mins)
Schedule Location
Mon - Sat 9 am - 6 pm Vancouver West
Tues & Sun -off-
Schedule Location
Tues - Sat By Appointment Only Vancouver East
(Please call 604.435.9978)
*This practitioner is working independently and not subcontracted by Century Chiropractic Clinic Inc. Please call 604.435.9978 to book.
Dr. Serina Chen, R.A.C, RTCMP
Dr. Serina Chen focuses on assessment and treatment of most body discomforts, using Needles, Cups, Guasha, Acupressure, Moxa, with TCM's meridian theory, to help people reducing the pain, skin problems, depression, hemolyzing the body's Yin and Yang, and more.
Having been in Canada for more than 25 years, she feels Vancouver's windy, cold and moist weather gradually affect people's health to physically limited or causing the pains.
According to the TCM theory, "preventing from getting sick", I will put this idea in treatments to slow or eliminate unseen pathogenic factor to recuperate body or improve body immunity.
Schedule

Location
Monday off
Tuesday 5 pm - 8 pm Vancouver East
Wednesday 8 am - 1 pm Vancouver East
Thursday 8 am - 8 pm Vancouver East
Saturday 8 am - 8 pm Vancouver East
Sunday 1 pm - 8 pm Vancouver East
(By appointment only)
What is Acupuncture and How Does it Help Me?
Our Acupuncture & TCM Practitioners
Treatment Fees
Acupuncture Treatment
Inital: $100
Subsequent $80
Laser Acupuncture
Initial: $100
Subsequent: $80
Cupping or Scraping
$60 (30 mins)
Herbal Medicine
$100/ 7 days
No Treatment Consultation
$30
Treatment Fees
Acupuncture Treatment
Inital: $100
Subsequent $80
Tian Jiu Acupuncture
Initial: $60
Subsequent: $60
Herbal Medicine (Powder/Tablet)
$100/ 7 days
$50/ 3 days
Prescription Only
$30
No Treatment Consultation
$30
Dr. Melinda Cheng,

R.AC., R. TCM. P
Education & Clinical History:
Master & Bachelor Degree in Beijing University of Chinese Medicine
Beijing Xiyuan Hospital CACMS - Dr. TCM
Being an apprentice of famous Dr. TCMs in Beijing China
Specialties:
Insomnia, Anxiety, Opthalmology, Otology, Neurology, Dermatology, Gynecology, Endorinology, Gastroenterology, Cardiology, Weight Management